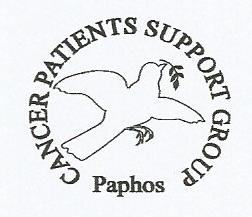 VOLUNTEERS NEEDED FOR CANCER PATIENTS SUPPORT
PASYKAF and CANCER PATIENTS SUPPORT GROUP, PAPHOS
'LEARNING HOW TO HELP' COURSE 2018
Would you like to work as a volunteer, in a non-medical capacity, supporting the Nurses and Patients of PASYKAF and to support people on the Helpline?
We are looking for people who have empathy, availability and commitment
PASYKAF will be holding an 8-day Training Course in Paphos
Hours:  10am until 4pm
Venue:  St Michael's Hospice, Mesa Chorio.
Applications and any further information should be made to our Helpline Tel: 97-760989 between the hours of 9am to 1pm Mon to Friday.
Interviews will be held at the PASYKAF Day Centre, 84, Ellados Avenue, 8020
(Applications should be car drivers and live not far outside the Paphos area)