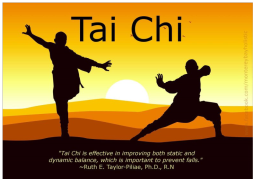 ON-GOING TAI CHI EXERCISE
This ancient Chinese form of exercise combines slow, flowing movements with deep breathing.  The dance like exercises strengthen the energy while breathing calms the mind.  Sequences work on nearly every muscle and joint, improving body control, co-ordination and balance.  This is an ideal exercise for people of ALL ages and fitness levels.
Lessons aim to provide an exercise with movements that do not require any strength or exertion.  The PASYKAF TAI-CHI GROUP meets every Friday from 10am to 11.30am at Dasoudi Park (opp Carrefour).
Classes are offered free to all cancer patients and family members however, a fee of €5 per session is charged to the general public which will go to the Association.
For more info ring instructor Dominique Kanari (Clinical Psychologist 99-157278 or email Dominique_kanaris@hotmailcom
So, all you CPSG members why not come along and keep yourself fit and healthy